1994 // Born in Furth im Wald, Bavaria, Germany.
2012 // Abitur (higher education entrance qualification) at grammar school Joseph-von-Fraunhofer-Gymnasium, Cham.
2013-2019 // Studies at Offenbach University of Art and Design under Heiner Blum, Eike König, Sascha Lobe, Clemens Mitscher und Marc Ries.
Graduation as Diplom-Designer (visual communications)
2017/18 // Exchange semester at the Zurich University of the Arts in the master program for transdisciplinary studies.
scholarships & awards
Neustart Kultur Stipendium Stiftung Kunstfonds 2022
1st Prize Rudo Spemann 2017
Cusanuswerk Exchange Scholarship 2017
Swiss Mobility Programme 2017
Cusanuswerk Scholarship 2016-2019
Nikon On Stage Photography Award 2015
Hfg Offenbach and Künstlerhilfe Frankfurt Art Award 2015
German National Scholarship Programme 2014-2015
works in collections
Grassi Museum of Applied Arts, Leipzig
Klingspor Museum, Offenbach am Main
Email
info @ martinkreitl.com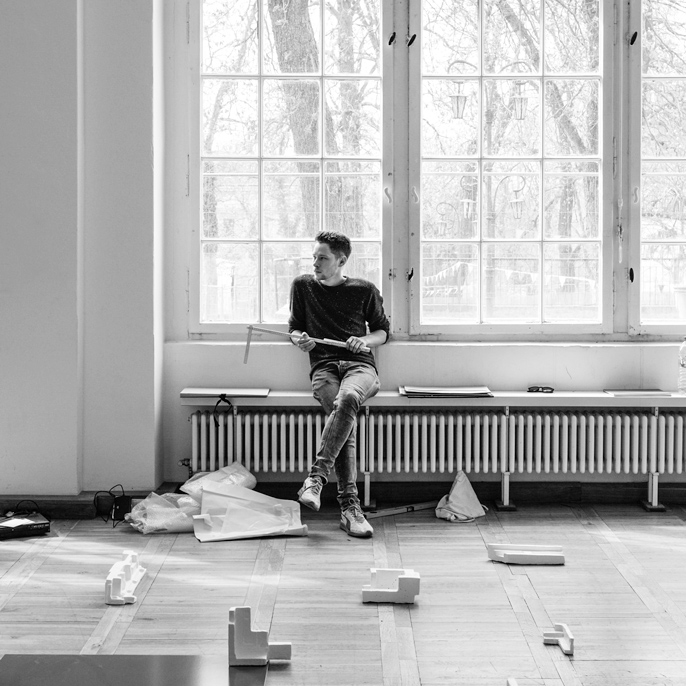 1994 // Geburt in Furth im Wald, Bayern, Deutschland.
2012 // Allgemeine Hochschulreife am Joseph-von-Fraunhofer-Gymnasium, Cham
2013-2019 // Studium an der Hochschule für Gestaltung, Offenbach am Main bei Heiner Blum, Eike König, Sascha Lobe, Clemens Mitscher und Marc Ries.
Abschluss als Diplom-Designer (Visuelle Kommunikation)
2017/18 // Auslandssemester an der Zürcher Hochschule der Künste im Master für Transdisziplinarität
Stipendien & Preise
Neustart Kultur Stipendium Stiftung Kunstfonds 2022
1. Preis Rudo Spemann 2017
Cusanuswerk Auslandsstipendium 2017
Swiss Mobility Programme 2017
Cusanuswerk Studienstipendium 2016-2019
Nikon On Stage Photography Award 2015
Hfg Rundgangspreis der Künstlerhilfe Frankfurt 2015
Deutschlandstipendium 2014-2015
Arbeiten in Sammlungen
Grassi Museum für Angewandte Kunst, Leipzig
Klingspor Museum, Offenbach am Main
Email
info @ martinkreitl.com
Exhibtions (selection)
Ausstellungen (Auswahl)
2021
»ANALOG TOTAL. Fotografie heute«, GRASSI Museum, Leipzig
2019
»My Life«, Fujifim Truman Brewery, London
»I Engineer«, Cotton spinning mill WERKSCHAU Hall 12, Leipzig
»Rock 'n' Roll«, François-Blanc-Spielbank, Bad Homburg vor der Höhe
2017
»On Stage«, Rock- und Popmuseum, Gronau
»ON STAGE«, Marburg Art Club, Marburg
2016
»Festival der jungen Talente«, Frankfurt Art Club, Frankfurt am Main
»Kunsthoch46«, Burg Galerie im Volkspark, Halle
»Offenbacher Hängung«, Gallery Nina Sagt, Düsseldorf
2015
»PhotosOnStage«, Untergrund Gallery, Neu-Isenburg
»One Week Poster«, Zollamt Gallery, Offenbach am Main
2021
»ANALOG TOTAL. Fotografie heute«, GRASSI Museum, Leipzig
2019
»My Life«, Fujifim Truman Brewery, London
»I Engineer«, Baumwollspinnerei WERKSCHAU Halle 12, Leipzig
»Rock 'n' Roll«, François-Blanc-Spielbank, Bad Homburg vor der Höhe
2017
»On Stage«, Rock- und Popmuseum, Gronau
»ON STAGE«, Marburger Kunstverein, Marburg
2016
»Festival der jungen Talente«, Frankfurter Kunstverein, Frankfurt am Main
»Kunsthoch46«, Burg Galerie im Volkspark, Halle
»Offenbacher Hängung«, Galerie Nina Sagt, Düsseldorf
2015
»PhotosOnStage«, Untergrund Galerie, Neu-Isenburg
»One Week Poster«, Zollamt Galerie, Offenbach am Main